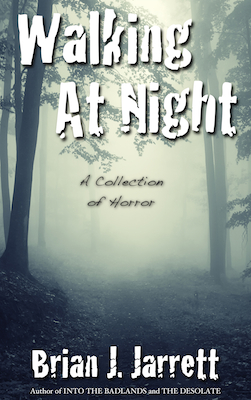 A childhood evil thought long dead reawakens. In the deep, dark woods death methodically stalks its prey. A strange mirror found in an unknown cave is much more than it appears to be. The perfect plan takes an unexpected turn, while death comes for everyone in frighteningly different shapes and forms. A tortured survivor quests endlessly for atonement that may never come. Strange and terrifying creatures that shouldn't exist, do.
These are some of the chilling and speculative themes found in Brian J. Jarrett's Walking At Night: A Collection of Horror. A work some fifteen years in the making, this collection features some of the author's darkest themes and some of his strangest worlds yet imagined. This collection will take readers on nine suspense-filled trips to the dark side of humanity and to places beyond the realm of science and reason.
Story-by-story:
Old Man Miller's Dog
A man struggles to contain a horror from his childhood he thought he'd left behind.
The Ice Cream Man
A serial killer's penance is delivered by a monster from his past.
The Thing in the Shed
It shouldn't be alive, but it is. It's trapped in a shed…and it wants out.
Walking at Night
A young man trapped along a country road in the darkest of nights encounters his worst nightmare.
Otto's House
The dark woods behind a young woman's house hold a horror far worse than she could ever imagine.
Death Hollow
A dying old man recounts his tale of meeting death…and living to tell.
The Double-Cross
The perfect murder takes an unexpected turn.
Reflection
Four teenage boys stumble upon what appears to be a strange mirror inside a boarded-up cave. What they discover is not a mirror at all, and what's behind it might kill them all.
The Hidden and the Haunted
Cursed with horrific visions of murder, a man tirelessly searches for his missing sister and the atonement he so desperately needs.